Stir
A resource to stir one's faith imagination
Welcome to Stir.
When I began as the coordinator of youth and young adult ministries for the Cumberland Presbyterian Church, I wanted to create a resource that would inspire youth and young adult leaders faith imagination. Lots of curriculum out today does a good job providing content for leaders to use but I wanted to create something that would stir their creativity and imagination. A resource they could use the way they desired not just the way it was laid out. A visual resource that would inspire the young people in our churches to live out their faith in creative and imaginative ways.
That resource is Stir.
This Stir will focus on God's Creation: Good, Broken, Redeemed.
God's Creation will be explored through three elements:
Head: How We Think- Our thoughts and ideas shape how we see God's creation
Heart: How We Feel- Exploring how we experience God's creation
Hands: How We Move- Responding to God's creation
In addition, Stir: Creation will include a leaders only section that will focus on Sabbath.
What will make up Stir: Creation?
Stir: Creation will consist of 4 parts:
Good, Broken, Redeemed and (leader care) Sabbath
Each part will include two videos:
1 teaching
1 visual storytelling/liturgy
It will also have a leader guide with talking points about each part, discussion questions and activity suggestions.
What We Need to create Stir: Creation
This is a new project that currently has zero funding. So here is what we need to make Stir a reality.
We need to raise $5,000 to create Stir.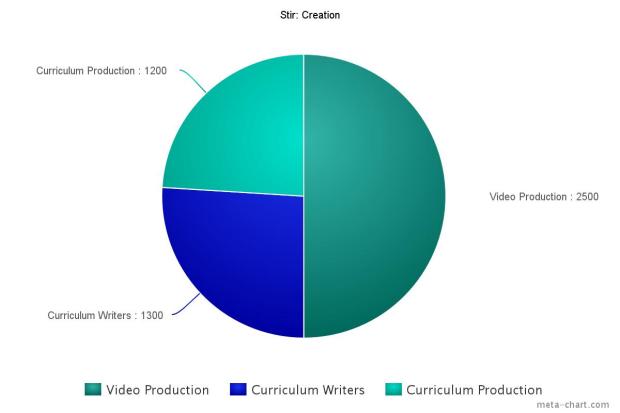 Video Production: $2,500
Filming and Editing of all videos in Stir: Creation including travel costs for filming locations
Curriculum Writers: $1300
Writing scripts for each video, writing talking points, discussion questions, activities
Curriculum Production: $1200
Creating logo and art for Stir: Creation leader book, first order of physical copies, vimeo video web hosting
If all goes according to plan our hope is to have Stir: Creation ready by August 2016.
If we are unable to reach or exceed our fundraising goal we will use contributions to create portions of Stir: Creation.
Ways you can help us make Stir: Creation
Contribute to our campaign. If you think Stir: Creation is a great resource and would like to see it the best way to help us do that is by contributing to our campaign. We cannot make Stir without your contribution. Please check out the perks to see what you get when you contribute to our campaign.
You can also help us by sharing this campaign with other youth leaders, teachers, pastors and folks who might be interested in a resource like Stir.
Join our Facebook page: www.facebook.com/stircreation
Thank you for reading and helping us make Stir: Creation a reality!
Peace,
Nathan Wheeler
Coordinator of Youth and Young Adult Ministries of the Cumberland Presbyterian Church.
Logo created by Hannah Pahl: www.hannahpahldesign.com
Video created by Tim Jarvis: www.jarvis-media.com
Music by: Isla Vista Worship